Our

 Steps for a cleaner ventilation system
*Process may vary slightly from home to home, depending on the setup and system we are cleaning.
Step 1
Technicians arrive to your home with our Vacuum trucks. We use some of the best equipment in the industry to help clean your air duct system. We have truck mounted vacuums and compressors to provide more than enough power to clean all sizes of homes. All equipment that is brought into your home is cleaned & disinfected between jobs as best as possible to help prevent cross contamination.
Step 2
Our technicians have numerous years of experience and have cleaned all types of systems and components. This ensures that you get the best expert service in the industry. We stand behind all of our technicians and their workmanship and provide a 90 day warranty. If there are any issues that arise, you come across a vent or area that wasn't cleaned, or just not happy with the service, we will gladly come back and have the issues rectified.
Step 3
Uniformed technicians arrive and greet you. Next they do a walk-thru of your home as part of our pre-cleaning assessment. They will want to know any specific questions and concerns you have so that they can provide answers and attend to your specific needs.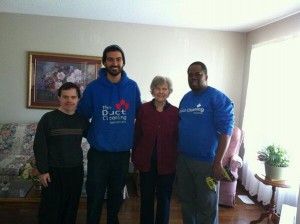 Step 4
Our technicians remove their shoes or use protective booties while working around the home to ensure that they don't track any dirt or make a mess. As per safety regulations, the technicians MUST keep their shoes on in the Furnace Room. We will do our best to keep the area protected and will clean up any mess, if any.
Step 5
Protective drop clothes and corner guards are placed under all of our vacuum hoses as they are laid out from the truck to your duct system ensuring that they don't scuff or scratch your floors and furnishings. A door or window will need to be open to allow access for our hoses.
Size Matters. We use 6-8″ Diameter Vacuum hoses. This is more than sufficient at providing good airflow and able to collect large debris such as drywall, pop-cans, construction garbage, etc. A 2″ vacuum hose would only get clogged and not able to throughly perform the cleaning services throughout the entire system.
Step 6
We MUST create access openings to hook up our vacuum equipment and insert our various cleaning tools into the main supply & return ductwork. If a previous cleaning was done, we may be able to use the current access, depending on the size and location, as these vary from company to company. These openings will be properly sealed at the end of the job.
As you can see below, some companies do not make proper / sufficient access. It is important to learn about the company you are hiring to ensure they actually know what to do.
NOTE: We can clean all types of homes whether your basement is finished with a drywall ceiling, push tile ceiling or unfinished. Some homes just may take more effort to ensure the system is cleaned. There may be times where access to the ductwork is restricted and cutting into the drywall is the only option.
Please Note: For homes with an Unfinished basement, there may be a slight mess during the cleaning of the main ductwork. Dust and debris can accumulate on top of the ductwork, and areas may be to hard to reach to pre-clean. This may also be the case for cold air return ducting connected to the floor joists and not fully sealed. During the agitation cleaning process, this dust and debris may be loosened and fall onto the floor. We will have a separate vacuum running to help collect and airborne dust/debris and the rest of a mess, if any, will be cleaned up as soon as the work for that particular area is done. Unfortunately there is not much that can be done in most instances.
Step 7
We clean the ductwork using various air cleaning tools. First we hand vacuum the vents to remove any large debris. We run high powered compressed air lines and whips through every accessible section of your supply and return ductwork ensuring a thorough cleaning throughout all your air ducts around the house. Then we flush high-powered compressed air down each vent and register just to make sure all the heavier items are cleaned out. 
Please note – Some vents may be painted/caulked to the wall or ceiling and unable to be removed without damage. We may only be able to air wash these vents.
Step 8
We take the additional step of brushing the ductwork.  We find this additional step to be worthwhile in providing a superior cleaning than using air tools alone.
During the cleaning process, we also make sure to check that any dampers that are installed are left open to allow the airflow to that designated area. A closed damper is one of the most common issues with customers complaining of poor airflow. Not every home has them installed, but a simple adjustment of the levers can help save a service call.
Step 9
Once all cleaning steps have been performed, we will do a visual inspection of the system to ensure all areas are clean and nothing was missed, before shutting down the equipment and packing up. Not all ductwork will come out looking shiny and new as shown below.
For Residential Systems, we have reverted to using smartphones and the Wifi Ferret Camera for inspecting and taking pictures.
Step 10
Only after you are completely satisfied will your cleaning specialist seal the access openings and return the system to service.  All Openings are sealed with semi-permanent enclosures that can be used for a future cleaning. These sheet metal plates come in many different sizes depending on the access opening required.
Step 11
Pack up equipment, clean-up work area, and place a reminder sticker on the furnace. Full system cleanings are recommended every 3-5 years for most residential systems.
Step 12
The system will be turned on and  checked over to ensure operation. 
THANK YOU FOR YOUR BUSINESS
You receive a post-service email/call from our support staff to measure your satisfaction. We hope you would recommend us to your friends and family! Thank you!
---